Avatud arutlusõhtu "War and Peace"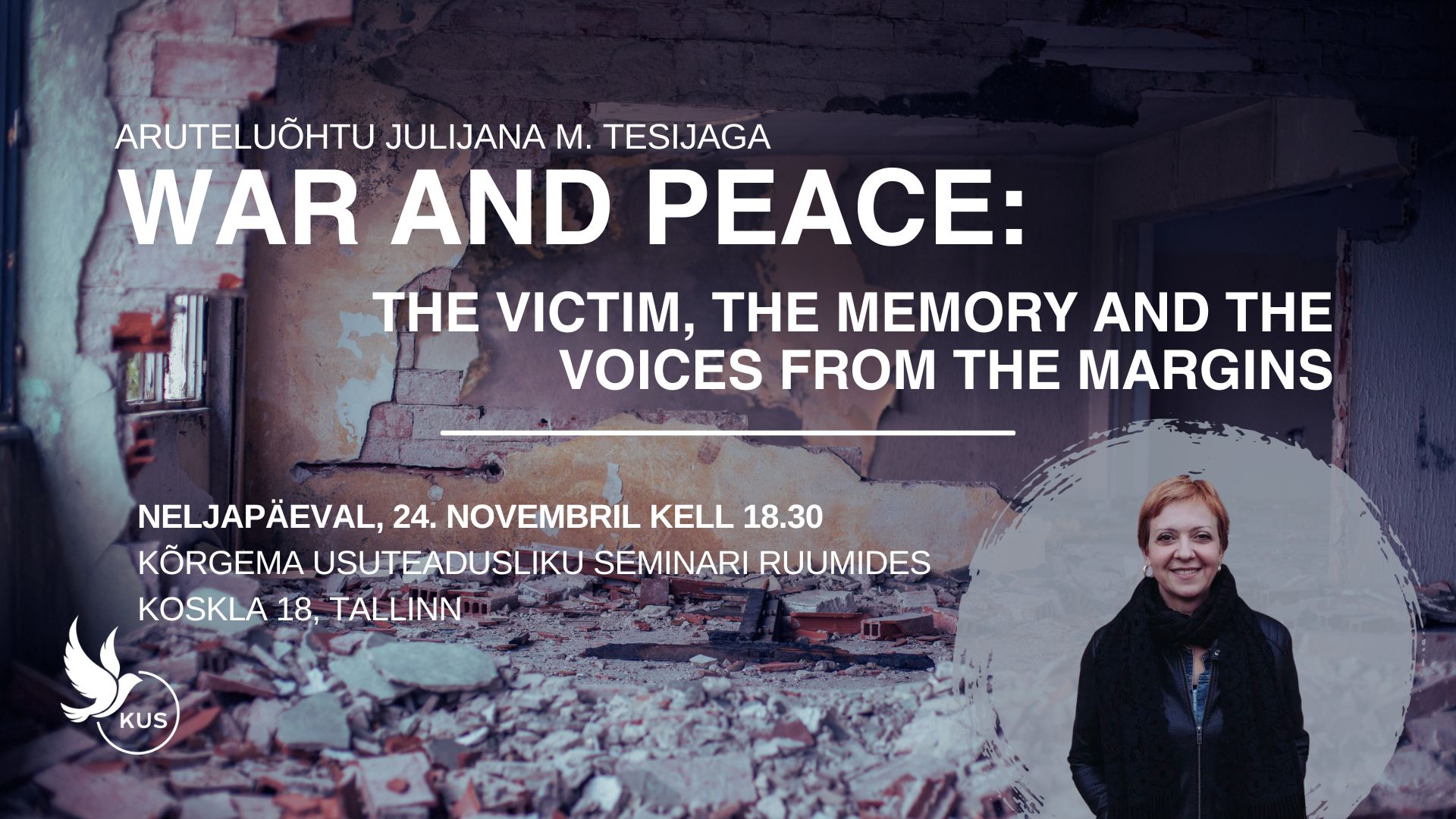 Kusagil maailmas on alati sõdu olnud, nüüd aga tundub, et need on meile taas lähemal kui me seda tahaksime.
Mis aga võiks olla kristlaste vastus sõjale? Kuidas olla rahutegijad kui haavad on sügavad ja värsked? Kuidas vahetada hirm armuga ja mida saame õppida Jeesuse eeskujust?
Horvaatia sõja näitel avab neid küsimusi Julijana Mladenovska-Tešija Evangeelsest Teoloogilisest Seminarist (ETS) (Osijek, Horvaatia). Julijana on sel teemal kirjutamas ka oma doktoritööd, seega tuleb kindlasti sisukas õhtu. Peale tema ettekannet on aega aruteluks ja küsimusteks.
Loeng on tasuta ja inglise keeles, võimalusel pakume ka tõlget. Arutelugrupid on eestikeelsed.
Loengu tutvustus inglise keeles:
The lecture will present ways of functioning of the dominant war memory narrative for the Croatian national identity-making focusing on two cities, Vukovar and Osijek, and using ETS as a case study to argue about the role of minority faiths in war and peace.
The author will argue that Rene Girard`s scapegoat concept explored in his book Violence and the Sacred might be helpful in understanding the victim-role in terms of fuelling and control of violence, as well as in finding cure by declining the complicity to the dominant narrative, replacing fear with love and offering reconciliation by looking at the Bible, in the atemporal perfect victim of Jesus on the cross. An example to this end will be offered by taking a look at the role of ETS, a minority faith education institution during the Croatian Homeland war.
Julijana Mladenovska-Tešija a Croatian and native/ethic Macedonian, married, mother of one, living and working in Osijek, Croatia for the last twenty years.
BA in Philosophy at the Faculty of Philosophy, University "St. Cyril and Methodius "in Skopje, Macedonia; MA in Theology at the Evangelical Theological Seminary in Osijek, Croatia. Currently on doctoral studies at the Faculty of Philosophy and Religious Studies, University of Utrecht, The Netherlands (exploring grass-root religious peace activists during the Croatian Homeland War 1991-2001). Two specialisation degrees in Peace and Conflict Research from the University of Oslo / the Nansen Academy, Lillehammer, Norway, and Public Relations from the London School of PR.
She is acting Vice Dean for International Co-operation and Projects and lecturer of Philosophy-related subjects at the ETS including Ethics, Methodology and Church and Media.
Julijana is a believer and a member of the Evangelical Pentecostal Church in Osijek where she serves in different capacities as a preacheress, interpreter to/from English, and a representative of the Church at the City of Osijek Council for Human and Minority Rights. She is a member of the editorial board of the Evangelical Theological Journal Kairos, of the Croatian section of the European Society of Women in Theological Research, the World Day of Prayer Croatia and the Macedonian Cultural Society in Osijek.